---
Indigenous Art Competition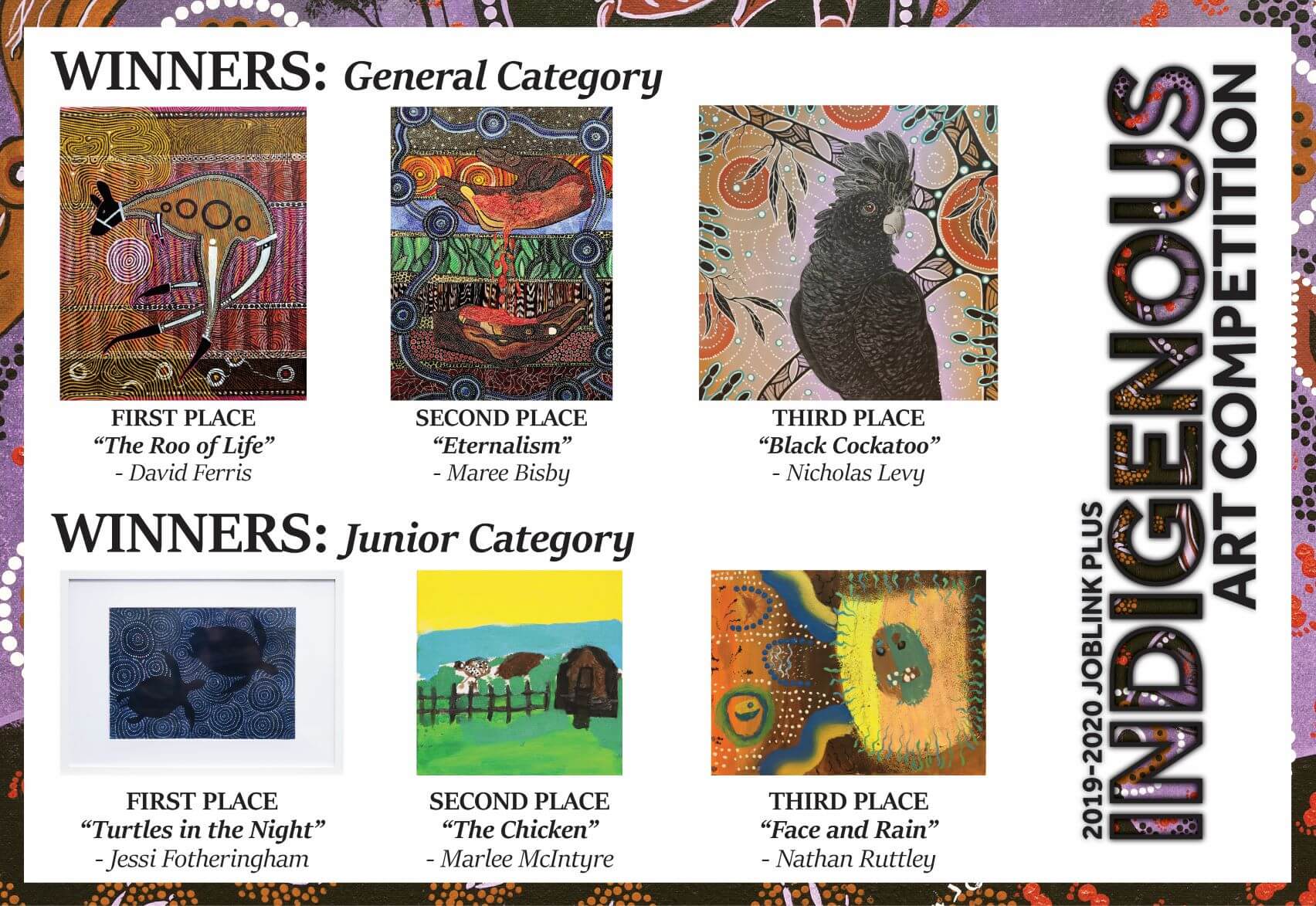 This second advent of the Joblink Plus Indigenous Art Competition has spanned over 2019-2020, with artists encouraged to paint over the summer holidays. Again we have seen a wonderful range of entries come from across NSW, using a variety of techniques and subjects.
In total we received 83 entries from 46 individual artists, from 20 different locations across our footprint of operation within NSW.
All entries have been judged blind on their merit, with the grand prize being taken out by David Ferris for his piece "The Roo of Life". Second place was awarded to "Eternalism" by Maree Bisby, with "Black Cockatoo" by Nicholas Levy taking third place. We were also delighted to have been able to add a junior category this year, with first place going to "Turtles in the Night" by Jessi Fotheringham. Second place in the Junior category went to Marlee McIntyre for "The Chicken", and third place went to Nathan Ruttley for "Face and Rain".
Each and every work has been completed with the utmost passion and care, and we are humbled to be able to offer some for purchase. Though the sale and viewing usually takes place in a typical gallery setting, the current health and safety restrictions regarding social distancing and gallery operations have led us to use digital methods to bring the exhibition to you.

You can see a full interactive gallery of the entries online at:
The gallery may take a few moments to load and is compatible on desktop. Simply point and click your mouse to move around the virtual gallery space. If you click a piece of art, you'll be able to view more information about it, including where the artist is from, and whether it is for sale.
Sales have also moved online! Visit the purchasing site at:

Sales
Here you can view the pieces that are for sale and make purchases. Get in quick – once they're gone, they're gone! Please be aware that due to the nature of the online galleries, images are not to scale with the original artwork. Check the dimensions provided in the image descriptions.

All artists receive the full amount paid to purchase their art, with no percentage taken by Joblink Plus (there is an additional charge for postage at checkout). We strongly believe in supporting local and grassroots artists and handle all pieces of artwork with regard and care.
We hope you enjoy looking through the artworks available, and consider making a purchase of any pieces you are particularly fond of. You are helping to support regional artists and their communities.
Happy viewing!